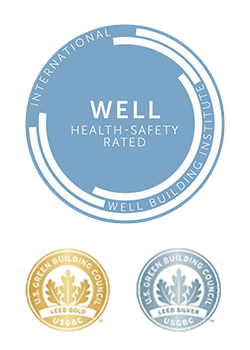 MetroNational is committed to working with tenants, vendors and the local community to improve the place we live and do business in by implementing projects that include social, economic and environmental considerations.
For more than 10 years, MetroNational has tracked the EPA Energy Star scores in its office buildings. In the past year, the company averaged an Energy Star score of 85 across the major office buildings. That means that MetroNational's buildings perform more efficiently than at least 85% of similar buildings nationwide.
In October 2013, MetroNational introduced a Memorial City-wide office building recycling program for tenants, including recycling metal, paper, plastic, cardboard, household batteries and electronics and have diverted more than 2 million pounds of waste from landfills.
Property Management will provide individual under-desk recycling bins for your employees/office

.

MetroNational office buildings currently use environmentally-friendly indoor and outdoor cleaning chemicals, non-toxic pest management chemicals, and high efficiency air filters and entryway mats to keep air quality at high levels.
MetroNational's existing building renovations and maintenance practices now include use of low VOC paints, adhesives and sealants.
MetroNational achieved the WELL Health-Safety Rating from the International WELL Building Institute (IWBI), earning the rating for all 11 of its office buildings and becoming the first company in Texas to earn the rating for all office buildings within a portfolio.
For more information on how your office can participate in these environmentally-friendly efforts, please contact the Property Management office.
Environmental Impact Report